ET EXCLUSIVE | MARY HART AND JOHN TESH TO REUNITE ON 'ENTERTAINMENT TONIGHT'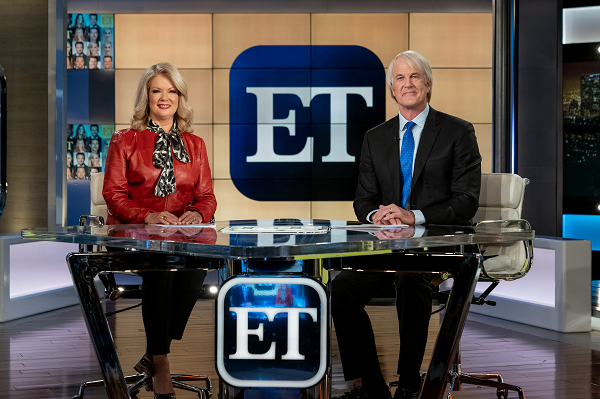 MARY HART AND JOHN TESH TO REUNITE ON 'ENTERTAINMENT TONIGHT'
CHECK LOCAL LISTINGS AT https://www.etonline.com/showfinder AND PLEASE CREDIT "ENTERTAINMENT TONIGHT"
LINK BACK TO: https://www.etonline.com/mary-hart-and-john-tesh-to-reunite-on-entertainment-tonight-exclusive-141954
February 23, 2020 (Los Angeles, CA) – After co-hosting ENTERTAINMENT TONIGHT for ten years, Mary Hart and John Tesh are back together on the ET stage, reuniting on Tuesday's episode.
"You know what? This is going to be a trip down memory lane, John Tesh. I am so glad to see you," Hart says to Tesh.
"It's an honor to be with you again, it really is," Tesh replies.
From 1982 to 2011, Hart was the face of ET, where she interviewed countless celebrities from Tom Hanks and Meryl Streep to Paul McCartney and too many more to even name. During that time, she and Tesh co-hosted ET during his full run from 1986 to 1996.
Tune into ET on Tuesday, February 25th (check local listings) to see Hart and Tesh's emotional reunion and more surprises.
For more information on "ENTERTAINMENT TONIGHT," please visit:
ETonline: http://www.etonline.com/
YouTube: https://www.youtube.com/channel/UCdtXPiqI2cLorKaPrfpKc4g
Facebook: https://www.facebook.com/EntertainmentTonight
Instagram: @entertainmenttonight
Twitter: @etnow
ET Live: http://www.etlive.com/ or "ET Live" via App Store