NCIS CROSSES PATHS WITH WHISTLER'S TEAM WHILE INVESTIGATING A SHIPPING CONTAINER FOUND FILLED WITH CONTRABAND WEAPONS, ON "NCIS: HAWAI`I," MONDAY, JAN. 3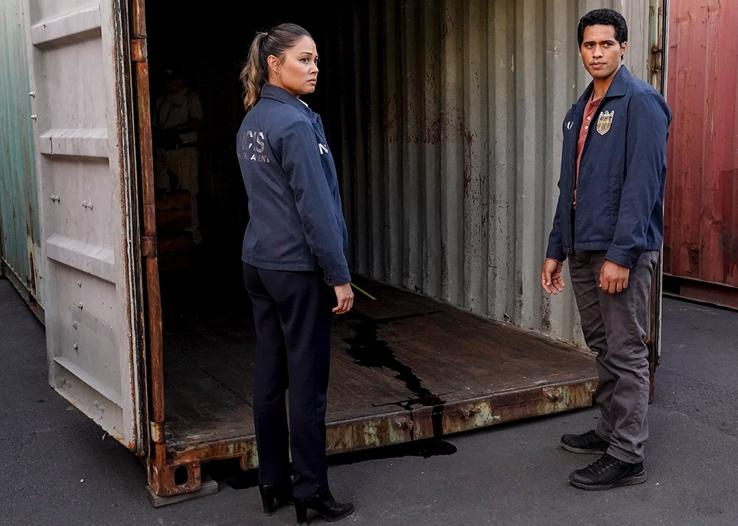 "Lost" – NCIS crosses paths with Whistler's team while investigating a shipping container filled with contraband weapons. Also, Tennant debates arresting Alex's friend's dad, knowing it will cause her friend to move away, on the CBS Original series NCIS: HAWAI`I, Monday, Jan. 3 (10:00-11:00 PM, ET/PT) on the CBS Television Network, and available to stream live and on demand on Paramount+*.
REGULAR CAST:
| | |
| --- | --- |
| Vanessa Lachey | (Special Agent in Charge Jane Tennant) |
| Alex Tarrant | (Kai Holman) |
| Noah Mills | (Jesse Boone) |
| Yasmine Al-Bustami | (Lucy Tara) |
| Jason Antoon | (Ernie Malik) |
| Tori Anderson | (Kate Whistler) |
| Kian Talan | (Alex Tennant) |
GUEST CAST:
Sharif Atkins

(Norman "Boom-Boom" Gates)

Nathaniel Ashton

(Tommy Wilson)

Michael Broderick

(Dr. Andrew Wilson)

Christopher Redman

(Clark Lohan)

Kim Hawthorne

(Dr. Laura Frost)

Johnnie Purvis

(Jason Roberts)

Anthony Ruivivar

Dustin McEwen

Ticondra Swartz

(Daniel Tennant)

(Russell Goodrick)

(Agent Reyes)
WRITTEN BY: Jan Nash
DIRECTED BY: Tim Andrew
GENRE: Drama, Crime, Mystery
Official CBS website: https://www.cbs.com/shows/ncis-hawaii/
*Paramount+ Premium subscribers will have access to stream live via the live feed of their local CBS affiliate on the service as well as on demand. Essential-tier subscribers will have access to on-demand the day after the episode airs.
CHEAT TWEET: The @NCISHawaiiCBS team crosses paths with Whistler on a new investigation & Jane debates whether to arrest Alex's friend's dad, knowing it will cause Alex's friend to move away! 1/3 at 10/9c on @CBS @VanessaLachey https://bit.ly/31souLB
Photos are available here.
Facebook: https://www.facebook.com/NCISHawaiiCBS/
Twitter: https://twitter.com/NCISHawaiiCBS
Instagram: @NCISHawaiiCBS
CBS Instagram: https://www.instagram.com/cbstv
CBS Twitter: https://twitter.com/cbs
CBS PR Twitter: https://twitter.com/CBSTweet
CBS TikTok: https://www.tiktok.com/@cbs
Cast and crew on social:
| | | |
| --- | --- | --- |
| | Twitter | Instagram |
| Vanessa Lachey | @VanessaLachey | @vanessalachey |
| Alex Tarrant | | |
| Noah Mills | @Noah_live | @noahmills |
| Yasmine Al-Bustami | @yasalbustami | @yasalbustami |
| Jason Antoon | @jasonantoon | @jasonantoon |
| Tori Anderson | @torianderson | @Tortorra_ |
| Kian Talan | @kiantalan | @kian.talan |
* * *
Press Contacts:
| | |
| --- | --- |
| Christine Park | |
| Tagan Lee-Greene | |
Photo Contact: