AS JANE AND THE TEAM INVESTIGATE AN ANTI-CAPITALIST PROTESTOR'S MURDER, THEY'RE CAUGHT IN A WAR BETWEEN ECO-ACTIVISTS AND A TECH BILLIONAIRE FIGHTING OVER A PIECE OF LAND, ON "NCIS: HAWAI`I," MONDAY, NOV. 29
­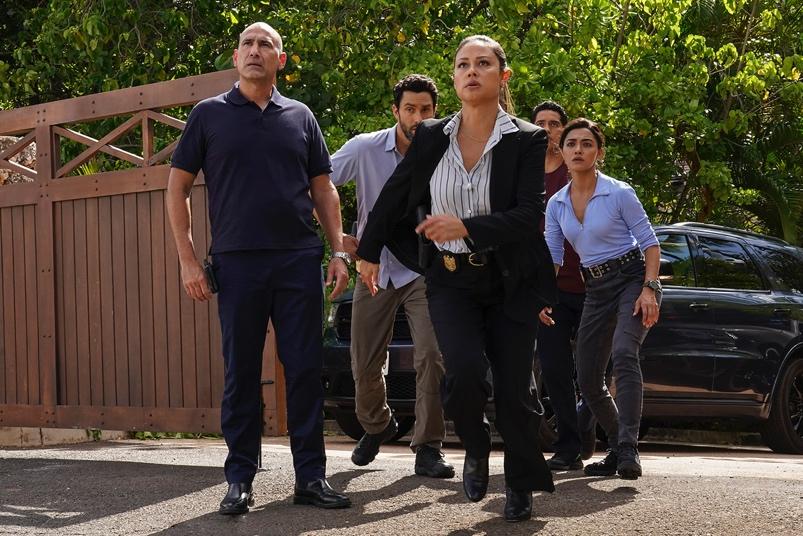 "Legacy" – When an anti-capitalist protestor is murdered, Jane and the team investigate and find themselves caught in a war between eco-activists and a tech billionaire fighting over a piece of land. Also, Jane and Captain Joe (Enver Gjokaj) go on a date, on the CBS Original series NCIS: HAWAI`I, Monday, Nov. 29 (10:00-11:00 PM, ET/PT) on the CBS Television Network, and available to stream live and on demand on Paramount+.
REGULAR CAST:
| | |
| --- | --- |
| Vanessa Lachey | (Special Agent in Charge Jane Tennant) |
| Alex Tarrant | (Kai Holman) |
| Noah Mills | (Jesse Boone) |
| Yasmine Al-Bustami | (Lucy Tara) |
| Jason Antoon | (Ernie Malik) |
| Tori Anderson | (Kate Whistler) |
| Kian Talan | (Alex Tennant) |
GUEST CAST:
Enver Gjokaj

(Captain Joe Milius)

Seana Kofoed

(Carla Chase)

Kordell Kekoa

(Kahu)

Keoni Maiwela

(Local #1)

Pualani Avaeoru

(Local #2)

Jason Manuel Olazabal

(Jake Tillman)

Rob Benedict

(Damian Davenport)

Jenna Leigh Green

Jordan Belfi

Patrick Cage II

Tumua Tuinei

(Morgan Davenport)

(Alan Shipley)

(Mike Williams)

(Wilbert Kalili)
WRITTEN BY: Yalun Tu
DIRECTED BY: Lisa Demaine
GENRE: Drama, Crime, Mystery
Official CBS website: https://www.cbs.com/shows/ncis-hawaii/
CHEAT TWEET: Jane and the team are caught in a war between eco-activists & a tech billionaire fighting over land. Plus, Jane & Captain Joe go on their first date! Will sparks fly? 11/29 at 10pm ET/PT! @CBS @NCISHawaiiCBS @VanessaLachey https://bit.ly/3c2EmXb
Photos are available here.
Facebook: https://www.facebook.com/NCISHawaiiCBS/
Twitter: https://twitter.com/NCISHawaiiCBS
Instagram: @NCISHawaiiCBS
CBS Instagram: https://www.instagram.com/cbstv
CBS Twitter: https://twitter.com/cbs
CBS PR Twitter: https://twitter.com/CBSTweet
CBS TikTok: https://www.tiktok.com/@cbs
Cast and crew on social:
| | | |
| --- | --- | --- |
| | Twitter | Instagram |
| Vanessa Lachey | @VanessaLachey | @vanessalachey |
| Alex Tarrant | | |
| Noah Mills | @Noah_live | @noahmills |
| Yasmine Al-Bustami | @yasalbustami | @yasalbustami |
| Jason Antoon | @jasonantoon | @jasonantoon |
| Tori Anderson | @torianderson | @Tortorra_ |
| Kian Talan | @kiantalan | @kian.talan |
* * *
Press Contacts:
| | |
| --- | --- |
| Christine Park | |
| Tagan Lee-Greene | |
Photo Contacts:
| | |
| --- | --- |
| Amanda Beane | |
| Richard Boeth | |