THE TEAM HEADS TO D.C. TO PROTECT ORTIZ'S FORMER INFORMANT FROM A THREAT AND SARAH HELPS JESS' FAMILY PREPARE FOR BYRON AND MARIE'S LAST-MINUTE WEDDING, ON "FBI: MOST WANTED," TUESDAY, MAY 18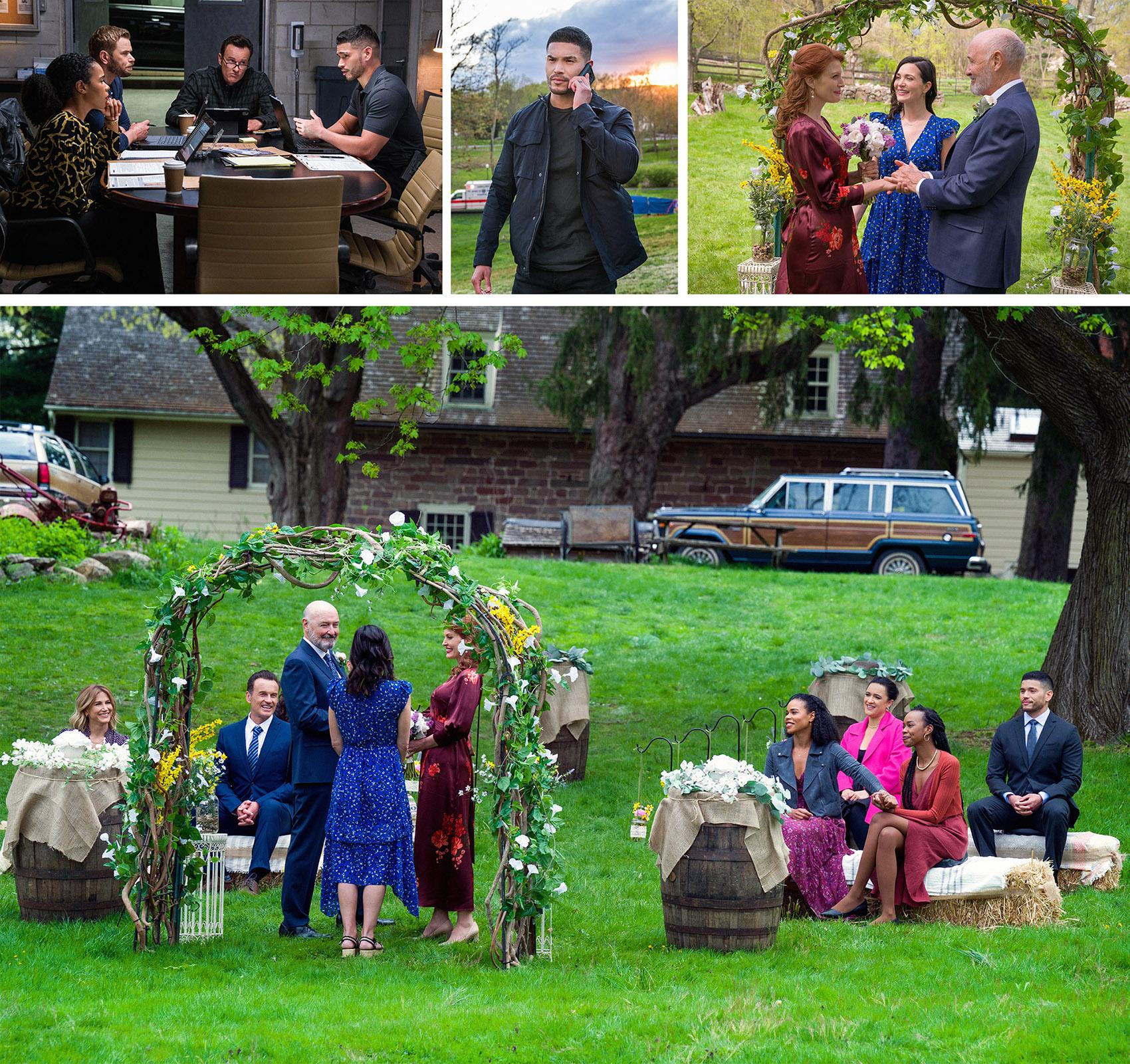 "Hustler" — The team heads to D.C. to protect Ortiz's former informant after a hitman tries to kill her. Also, Sarah helps Jess' family prepares for Byron and Marie's last-minute wedding on Jess' farm, on FBI: MOST WANTED, Tuesday, May 18 (10:00-11:00 PM, ET/PT) on the CBS Television Network.
REGULAR CAST:
Julian McMahon

(Supervisory Special Agent Jess LaCroix)

Kellan Lutz

(Special Agent Kenny Crosby)

Roxy Sternberg

(Special Agent Sheryll Barnes)

Keisha Castle-Hughes

(Special Agent Hana Gibson)

Nathaniel Arcand

(Special Agent Clinton Skye)

Miguel Gomez

YaYa Gosselin

(Special Agent Ivan Ortiz)

(Natalia "Tali" Skye LaCroix)
RECURRING CAST:
Terry O'Quinn

Jen Landon

Rachel York

Jules Willcox

Fedna Jacquet

Taylor Cooper

James Carpinello

(Byron LaCroix)

(Sarah Allen)

(Marie Smith)

(Louise LaCroix)

(Charlotte Gaines)

(Zadie)

(Hugh)
GUEST CAST:
Georgina Reilly

Adam Aalderks

Joe Urla

Adam Heller

Sorika Wolf

Matt Faucher

Don Stephenson

Guiesseppe Jones

Alison McCartan

Phoebe Dunn

Michael Olajide Jr.

Alicia Harding

Brian Faherty

Artan Telqiu

Vikki Eugenis

Dan Mandel

Johnny Sanchez

(Sheri James)

(Max Nikolla)

(Daniel Arwith)

(Reese Holland)

(Agent Lisa Moss)

(Rob Parker)

(M.E. Davidson)

(Detective Briggs)

(Lindsey Verlage)

(Nancy Lawson)

(Diego)

(Samantha Holland)

(Referee)

(Director)

(Teenager)

(Driver)

(Dispatcher)
WRITTEN BY: Wendy West & Spindrift Beck
DIRECTED BY: John Polson
GENRE: Drama
Click HERE for photos.
Official CBS website: https://www.cbs.com/shows/fbi-most-wanted/
CHEAT TWEET: The @MostWantedCBS team bands around Ortiz to protect his former D.C. informant from a hitman before heading to Jess' dad's last-minute wedding on Jess' farm! #TerryO'Quinn Tues May 18, 10/9c #CBS! https://bit.ly/3hbewUW
Twitter: @MostWantedCBS
Instagram: @FBIMostWantedCBS
Facebook: @CBS
#FBIMostWantedCBS
Cast and crew on social:
| | | |
| --- | --- | --- |
| Julian McMahon | | Instagram: @julianmcmahonofficial |
| Kellan Lutz | Twitter: @kellanlutz | Instagram: @kellanlutz |
| Keisha Castle-Hughes | Twitter: @YoItsKeisha | |
| Nathaniel Arcand | Twitter: @ArcandNathaniel | Instagram: @NathanielArcand |
| Dick Wolf | | Instagram: @dickwolf |

* * *
Press Contact:
| | | |
| --- | --- | --- |
| Barbara Abseck | 212-975-4637 | beabseck@cbs.com |
Photo Contacts:
| | | |
| --- | --- | --- |
| Meagan McLaughlin | 212-975-7518 | |
| Mary Kouw | 212-975-4107 | |