STREAM THE FIRST EPISODE OF "YOUNG SHELDON" NOW ON YOUTUBE
In Anticipation of the Show's Return Thursday, Nov. 2 on the CBS Television Network,
The Premiere Episode Is Now Available to Stream on YouTube with Limited Commercials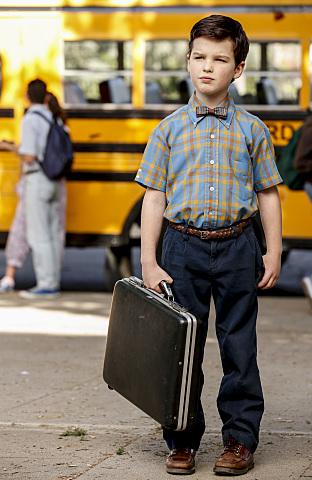 Beginning today, for the next five days fans can stream the premiere episode of YOUNG SHELDON on YouTube with limited commercials in advance of the series' return on Thursday, Nov. 2 on the CBS Television Network.
The acclaimed series premiere of YOUNG SHELDON, which was viewed by more than 22 million people on CBS (Nielsen L+7), introduces a 9-year-old version of the iconic, eccentric and extraordinary Sheldon Cooper, a character audiences have come to know for 10 years on THE BIG BANG THEORY. YOUNG SHELDON gives viewers the chance to meet him in childhood, as he embarks on his innocent, awkward and hopeful journey toward the man he will become. He's a once-in-a-generation mind capable of advanced mathematics and science but learns that isn't always helpful growing up in East Texas, a land where church and football are king.
YOUNG SHELDON returns in its new time period after THE BIG BANG THEORY on Thursday, Nov. 2 (8:30-9:00 PM, ET/PT) with its second episode:
"Rockets, Communists, and the Dewey Decimal System" – To appease his worried mother, Sheldon employs the techniques of a self-help book to try and make a friend.
Created by Chuck Lorre & Steven Molaro, the series follows THE BIG BANG THEORY's Sheldon Cooper at the age of 9, living with his family in East Texas and going to high school. YOUNG SHELDON stars Iain Armitage, Zoe Perry, Lance Barber, Annie Potts, Montana Jordan, Raegan Revord and the voice of Jim Parsons. Chuck Lorre, Steven Molaro, Jim Parsons and Todd Spiewak are executive producers for Chuck Lorre Productions, Inc., in association with Warner Bros. Television.
In addition to the on-air broadcasts on the CBS Television Network, all episodes of YOUNG SHELDON will be available to stream live and on-demand via CBS All Access. Recent episodes are also available to stream for free on CBS.com and the CBS App.
Photos are available at: http://cbspressexpress.com
Official CBS website: http://cbs.com/shows/young-sheldon/
Facebook: https://www.facebook.com/YoungSheldonCBS
Twitter: https://twitter.com/youngsheldon
Instagram: @YoungSheldonCBS
* * *
YOUNG SHELDON Press Contacts:
| | | |
| --- | --- | --- |
| Lori DelliColli | 603-824-6300 | |
| Tracey Raab | 818-655-1590 | |
CBS Interactive Press Contacts:
| | | |
| --- | --- | --- |
| Morgan Seal | 646-424-4321 | |
| Nikki Kozel | 646-424-3948 | |
Photo Contacts:
| | | |
| --- | --- | --- |
| Timothy Kuratek | 212-975-7068 | |
| Kathleen Tanji | 818-655-1543 | |